The appeal of an area that offers everything
In addition to relaxing by the sea, you can enjoy new experiences and discover new places in the hinterland of Rimini.
We are located in Rivabella di Rimini, a very quiet area but with a beautiful promenade where you will find restaurants, playgrounds for children, shows and evening markets.
Moreover, Rivabella is very close to Rimini's most picturesque spots and is also a perfect starting point to discover Rimini's hinterland and its historic villages.
The historic center of Rimini is also easy to reach on foot or by bike: it is only 2.5 km away from Hotel Harmony
You will have the opportunity to stroll through the alleys of Borgo San Giuliano, cross the Tiberius Bridge, enter Piazza Cavour, visit Castel Sismondo, the Tempio Malatestiano and the Domus of the Surgeon.
And then what? If that's not enough for you, we also offer experiences that will make you feel like a true local.
Cooking Classes to learn the secrets of Romagna's azdore and tastings in the vineyards are just some of the possibilities. This way, you can enjoy a different experience every day of your vacation!

If you want to visit the hinterland, here are the villages not to be missed:
Santarcangelo di Romagna
to see the Malatesta Fortress, the Tuff Caves, and the medieval old town
Verucchio and San Leo
both neighboring villages are on the list of Italy's Most Beautiful Villages (Borghi più Belli d'Italia). You can stroll through the charming medieval streets and visit their respective castles.

Montebello and Torriana
Montebello is famous for its castle of Guidi di Bagno, haunted by the ghost of Azzurrina. Torriana has a wonderful viewpoint of the coast.

Montefiore Conca
among the most beautiful villages in Italy, featuring a picturesque square-shaped castle and breathtaking views.

Gradara
voted the most beautiful village in Italy in 2018, famous for its marvelous castle that is said to have been the setting of the troubled love story between Paolo and Francesca.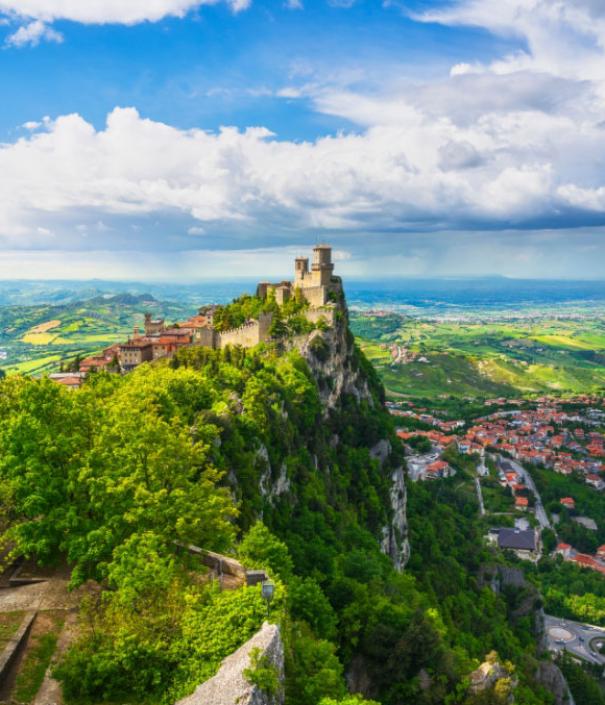 San Marino
one of the oldest and smallest republics in the world. The historic center full of special stores and museums is worth visiting.